Pressing jaws made in Germany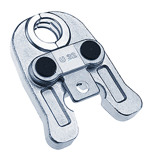 Pressing jaws made by ProPress®
For 20 years, we have been manufacturing pressing jaws and other high-grade tools for use by professional tradespeople under the ProPress® brand. By manufacturing our products in our Haan facility (in Germany) and continuously introducing new innovations to enhance our products, we have been able to secure consistent optimisation of our manufacturing processes and, as a result, the quality of our pressing jaws.
We will be pleased to offer you, the OEM supplier, our quality products under your own brand name. Take advantage of our know-how and many years' experience to strengthen your brand name. We can offer you a number of different methods for branding your products.
In the production of our pressing jaws, we use high-grade surface finishes. Choose between fully galvanised corrosion-protected and phosphated pressing jaws, which not only feature anti-corrosion protection but also have low wear. This guarantees much extended service lifetimes which, in turn, enables you to work more efficiently because you do not have to change tools so frequently.
Our pressing jaws are available for all popular press systems e.g. TH, U, G, B, H, HA, M, V.
Place your confidence in pressing jaws made in Haan. More information available here.
Do you need further details on pressing jaws?
Just give us a call!

Tel. +49 212 2441320
We will be pleased to answer your queries
by email
. p>
Further information: